Applications play a critical role in supporting key business processes, but organizations are
struggling to keep them safe. The 2018 Cybersecurity Insiders Application Security Report reveals that 62% of cybersecurity professionals are at best moderately confident in their organization's application security posture. Not surprisingly, about the same number consider their application security strategies immature.
How confident are you in your organization's AppSec position?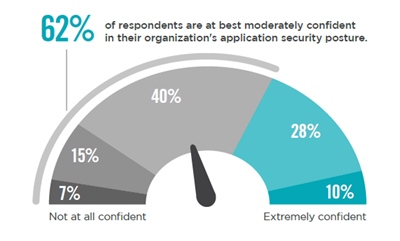 Customer-facing web applications present the highest security risk to businesses, according to 41% of those surveyed. Nearly every single web application today has at least one vulnerability.
Most alarming to security leaders is the time needed to remediate critical application vulnerabilities is often measured in months, not in days or even weeks.
Application security must be a high priority for all organizations to ensure their company's brand and top executives stay out of newspaper headlines.
The Application Security Report also shows that 23% of organizations have experienced application breaches or compromises in the past 12 months, with 8% having been attacked just within the previous month. More troubling, more than one-third of respondents couldn't even report whether or not they had sustained a breach or compromise over the past five years.
Clearly, organizations have to make improvements in how they protect business applications, especially as more applications are being designed and hosted on the web for external access.
Web application attacks are the top source of data breaches today. Tenable can help you secure your web applications as part of a comprehensive Cyber Exposure program.
This guide presents five key areas where you should focus to better protect applications against the latest cybersecurity threats.